1981 test pressing: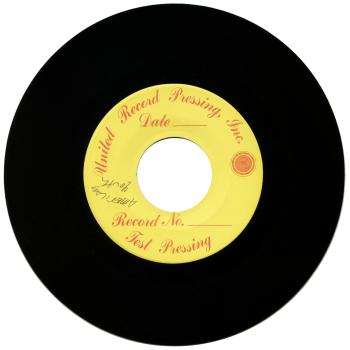 2000 test pressing:
2000 commercial releases:
Black Market Baby - America's Youth 7":
America's Youth // Crimes of Passion
?? test pressings
no commercial release
unknown label BOD 1, 1981

---
4 test pressings on black vinyl w/uncut small insert (NS)
100 copies on red vinyl w/small insert (NS)
a handful on blue vinyl w/small insert
400 copies on black vinyl w/large insert (NS)
007 21, 2000 (RI of 1981 test pressing)

Lineup: Boyd Farrell - vocals / Keith Campbell - guitar / Paul Cleary - bass / Tommy Carr - drums

Recording Info: Recorded in June of 1980 at Track. Engineered by Mark Greenhouse, produced by Ted Niceley.

Notes: Pictured are all the variations I know of. Only one pressing on 007. The 2000 red vinyl A side, abd black vinyl B side are shown. All my copies of the 007 reissue have a lot of excess vinyl around the edges, which is why they look kinda lumpy.
---
Reviews: Sonically this is the most powerful thing BMB ever released--huge fucking guitars, monster bass, pounding drums, snotty lyrics, and a seriously bad attitude. Crimes of Passion is pretty rudimentary, all the instruments are playing the same thing and the words are kinda dumb, but this is rock and roll, not Shakespeare. Am Youth is a killer tune in every respect.
This is the infamous single-that-never-was. No one seems to know the true story behind this, but I can shed a little light on it at least. In the summer of '80, the band recorded four tracks with Ted Niceley, World at War, America's Youth, Crimes of Passion, and Back Seat Sally. There was talk of releasing two singles from the session in almost immediately--the World at War / Backseat Sally 7" was s'posed to be available by Thanksgiving of '80. By April of '81 it still hadn't happened, but there were now allegedly THREE Black Market Baby 45s on the way, presumably Potential Suicide, War / Sally, and this one. The test pressings were done right before the Potential Suicide tests, definitively placing this in late spring '81.
Anyway, this record was test pressed (maybe 15-25 copies?), then abandoned, and no one seems to know why. Boyd says it was because he didn't like Crimes, a holdover from the Snitch. Skip says it was because the sound was too dry. Dave Champion, who wrote the liner notes for the reissue, chalks it up to procrastination and poor finances.
In the end America's Youth (along with World At War) was released on the Connected compilation LP in October of 1981. The master tape for the session was lost, leaving this test pressing the best-sounding source for Crimes of Passion.